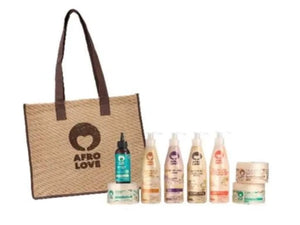 Afro Love Kit - Mint Shampoo + Soft Curl Jelly (10oz)
AFRO LOVE COMPLETE CURL KIT  •  KIT COMPLETO DE AFRO LOVE
Take all the Afro Love products home!  •  ¡Llévate todos los productos Afro Love a casa!
Exclusive Afro Love bag with the purchase of a Complete Afro Love Kit!  •  ¡Bolsa exclusiva de Afro Love con la compra del Kit Completo de Afro Love!

Afro Love is a hair line formulated free of salts, sulfates, parabens, formaldehyde, dea, colorants, mineral oils and silicones. Created for naturally curly, coily, afro or transitioning hair. The line combines a special blend that stimulates, refreshes, hydrates, nourishes and protects your hair, providing shine, definition and silkiness to each strand.

Excellent for 3c to 4c textures.
Kit Includes:

Shampoo (Mint, Eucalyptus & Rosemary) (10oz)
Wash & Love Co-wash  (8oz)
Conditioner (10oz)
Soufflé Deep Treatment Hair Mask (8oz)
Leave-In Smoothie (10oz)
Curling Purée Styling Creme (10oz)
Oil Blend (4oz)
Edge Control (2oz)
Soft Curl Defining Jelly (10oz)
Impressed!
Have been using the products about 2 weeks now! Curls are well defined, hair texture is incredibly soft and such a pleasant fragrance. You need a baby line now!